Zevia: Producer of healthy drinks with 25-30% revenue growth (NYSE: ZVIA)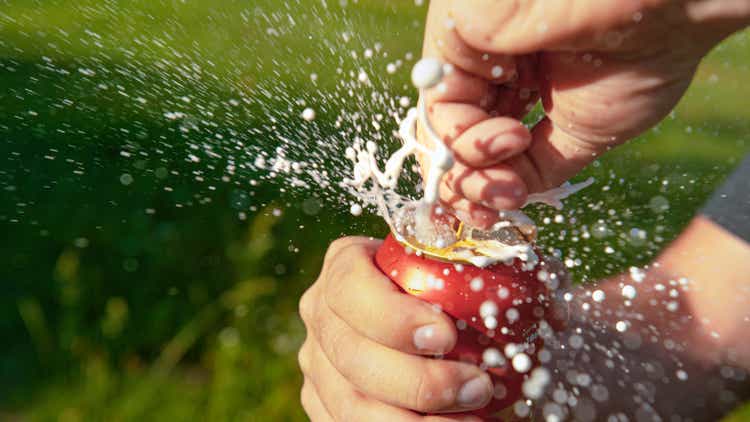 Introduction
Zevia PBC (NYSE: ZVIA) is one of the newer "healthy drink" companies and I think the company has done a good job of creating brand awareness. I have tried several of their products and although some of them their sparkling waters or their lemonades are tastier than others, I understand the company's desire to reduce the sugar consumption of its consumers. This is also why the company is a PBC, a public benefit corporation, which means that Zevia is not entirely interested in maximizing profits, but in balancing profits and purpose (promoting healthier lifestyle). Zevia PBC is the holding company of Zevia LLC which operates as a partnership.
The stock price is currently trading at just over $3.5/share, 75% below the IPO price of $14. The A shares are publicly traded while the B shares representing a 47% interest in the underlying operating entity, Zevia LLC, are unlisted and accounted for as "non-controlling interests".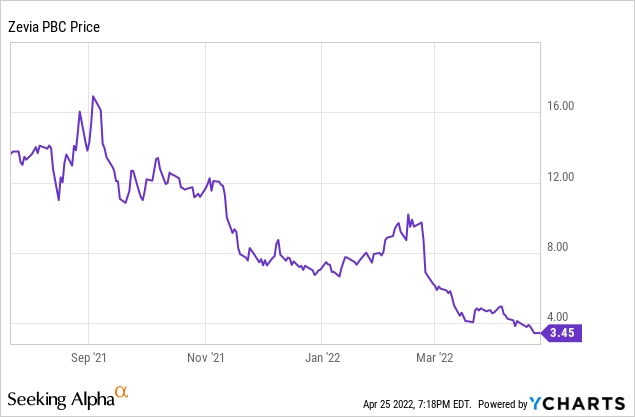 Zevia: an excellent "healthy drinks" company
Zevia has several different product offerings, ranging from sodas to energy drinks, as well as a kid-focused product offering and a mixer product. Soda is by far the most important product as it accounted for 87% of the company's revenue in 2021. The other products have all been launched within the last five years and are still positioning themselves in the respective markets on which they focus.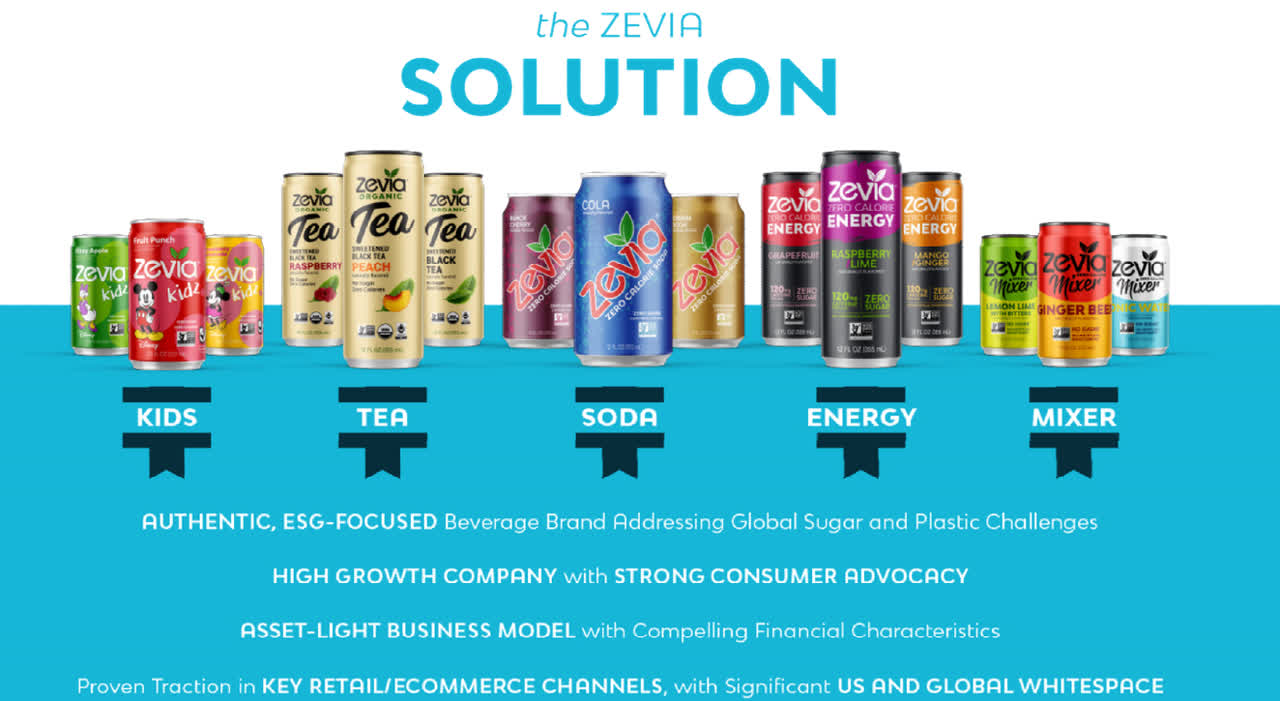 The company saw its revenue increase by just over 25% in 2021, generating total revenue of just over $138 million. COGS increased by a similar percentage (since Zevia outsources production as part of its asset-light business model), resulting in a 25% increase in gross profit to $61.2M.

This did not mean that the business was profitable. Total operating expenses were nearly $149 million and the majority of these expenses were related to the stock-based compensation program. The net loss was just under $88 million, of which approximately $40 million was attributable to non-controlling interests (represented by B shares). A-shares, which are the publicly traded common stock, reported negative EPS of $1.33/share. Excluding stock-based compensation, Zevia's net income would still have been negative, but the company is fairly close to breaking even.
Since stock-based compensation is not a cash item, the company's cash flow statement is much better than the reported net income. Although operating cash flow was negative at $17.8M, this was primarily caused by changes in working capital position (with a $10.7M build in inventory levels). Adjusted for these changes in working capital, operating cash flow was negative $8.3 million.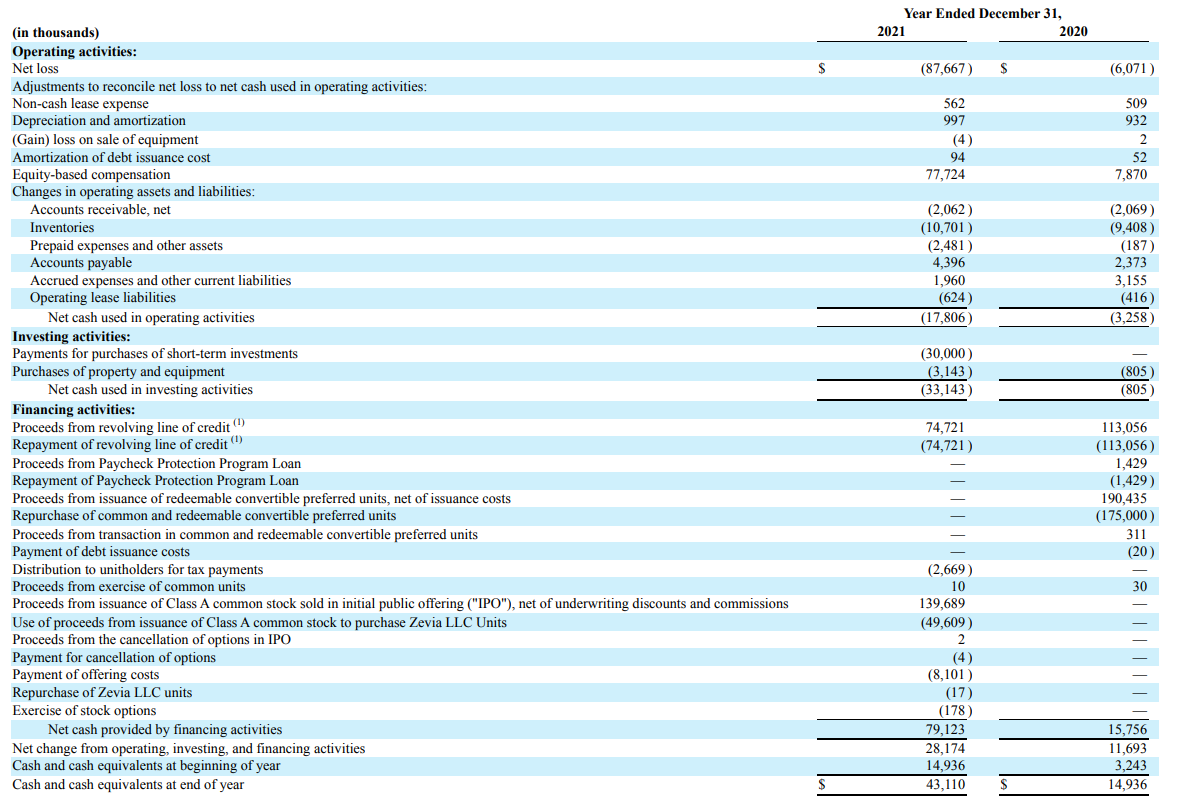 Total capex was only $3.1 million, resulting in negative free cash flow of $11.4 million. Note, this is at the Zevia LLC level. Thus, approximately 47% of this negative free cash flow was attributable to non-controlling interests.
The company invests heavily in brand awareness, profitability will come later
Zevia is getting close to breaking even, and I think it's now about economies of scale. Gross profit will likely continue to move as revenue increases (as gross margin remains fairly consistent in the 40s range), so it will be important to see a lower rate of growth in SG&A spending.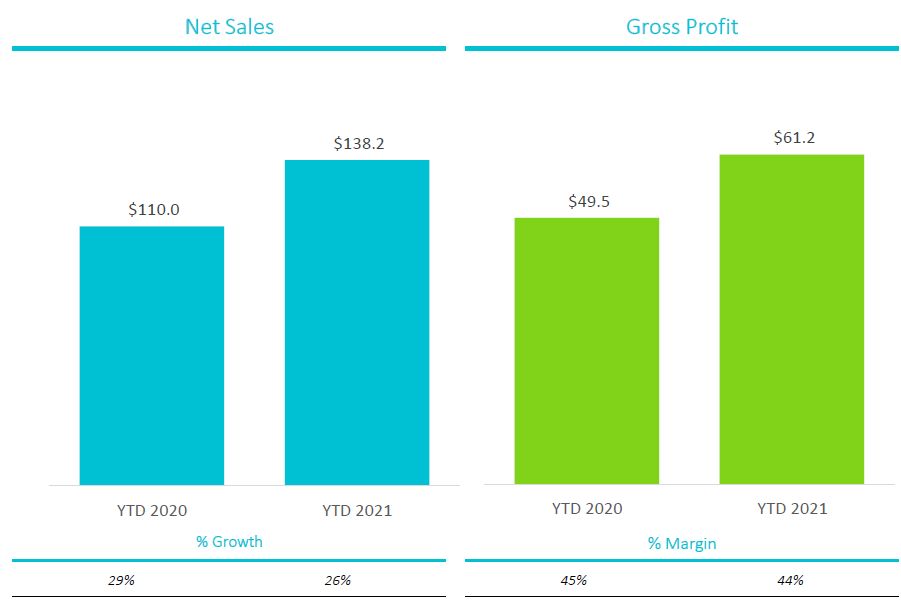 For 2022, Zevia forecasts a 28-32% increase in revenue to $177-182 million, which could and should be a big step towards breaking even. As brand awareness levels continue to rise, Zevia should be able to see a reduction in marketing spend per can sold, which should drive financial performance. Sales and marketing spend is up over 50% in 2021 compared to 2020, so there has very clearly been a marketing push from Zevia and I hope the company reaps the rewards this year.
Investment thesis
In general, I invest only (or at least mainly) in companies whose cash performance is known, as this makes it easier to determine the fair value of a company. However, Zevia's share price has now fallen so much that the company has become too cheap to ignore. Zevia was worth $1 billion just a year ago and now trades at a valuation below $250 million, which could make the company attractive to a larger industry company looking to expand its product offering.
About 1/3 of the market capitalization consists of cash and short-term investments, which means that the enterprise value of Zevia is slightly over $150 million, which makes it very acceptable for any other player. from the beverage business (that is, of course, assuming Zevia LLC's non-controlling associates would accept an offer). Moreover, the strong balance sheet also indicates that Zevia has ample time to reach its positive cash position. And with a bit of luck, the new COOs and CFOs will be able to start!
I don't currently have a position in Zevia, but I can initiate a [small] long position in the near future.