Revenue Group bets on processing electronic transactions as economy reopens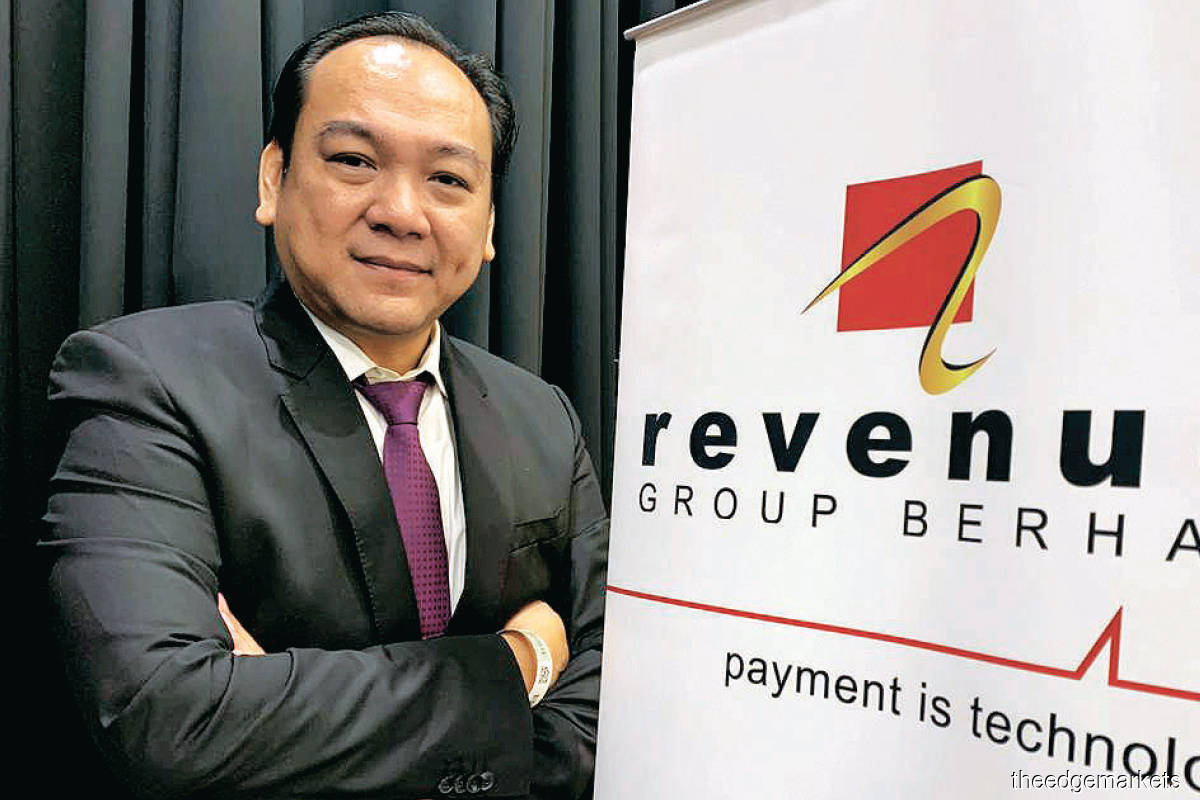 As electronic data capture (EDC) terminal developments mature, payment solutions specialist Revenue Group Bhd is targeting higher contributions from its electronic transaction processing business, in line with expected growth in the volume of transactions after Covid-19.
"We consider the electronic transaction processing segment to be larger with huge room for growth. As travel is allowed, transactions will in turn increase," its Managing Director and Datuk Group CEO Eddie Ng Chee Siong told The Edge in an interview.
Revenue's products and services are divided into three segments: EDC terminal deployment, electronic transaction processing, and payment infrastructure solutions and services.
In the year ended June 30, 2021 (fiscal 2021), EDC's terminals segment contributed 64.8% of group revenue, while electronic transaction processing and solutions and services contributed 20.6% and 14.6% respectively. Note that Revenue, with over 90,000 terminals, controls a 12% market share in the terminal industry in Malaysia.
Electronic transaction processing revenue is derived from a net merchant discount rate (MDR) of electronic transaction processing through the EDC terminal channel; pre-determined commissions; a share of net MDR as a third-party payment processor; as well as a share of the MDR net as a master merchant.
In the electronic transaction processing segment, Revenue recently launched its electronic wallet called wannaPay. Its main features are shopMyairports, China's health declaration certificate app, and UnionPay QR, says Ng, which has a 10.59% stake in Revenue.
"wannaPay allows users to pre-purchase duty-free products at the airport and the items will be available at the counter after clearing immigration. This feature provides convenience to users due to the lack of shopping time at the airport. It also provides a kind of comfort for users who are worried about coming into close contact. [with infected people] during the pandemic. At the same time, we are working on delivering purchases to the user's flight seat. »
"Secondly, Malaysians traveling to China can enter their health declaration on our app. As for the UnionPay QR, we are in the development phase and the deployment is targeted. [to be in] two to three months. Our users can transact via UnionPay QR in China," Ng shares.
Going forward, Revenue is looking to integrate financial products into wannaPay, including peer-to-peer (P2P) crowdfunding, robo-advisors, digital insurance, and convenience stores.
Additionally, Ng says the group is in talks with various existing merchants to enable easy payment, pending the publication of the Buy Now Pay Later (BNPL) framework by the central bank.
Bank Negara Malaysia said it is working with the Ministry of Finance and the Securities Commission of Malaysia to enact the Consumer Credit Act this year to strengthen regulatory provisions for all consumer credit activities, including BNPL programs offered by non-bank operators.
Citing the central bank's report, Ng said Malaysia's terminal industry is expected to grow by 15-20% annually, with a target of having 970,000 EDC terminals this year compared to 805,000 last year.
"We continue to expect growth in EDC's terminal segment, both sales and maintenance/rental. There was a quarter where we didn't sell any machines due to the pandemic, but our revenue was not affected.
"The cashless industry in Malaysia has grown very aggressively over the past five years, growing from RM147.4 billion in 2015 to RM277.8 billion in 2021. Over the next five years, we want to reach rural areas as well as undeveloped areas. and underserved markets. There are still a large number of micro-SMEs (small and medium-sized enterprises) that have not participated in this cashless payment system.
Regarding overseas expansion, Ng says the focus will be on providing solutions and services to help overseas customers implement cashless payment systems. This is because the payments industry is highly regulated and governments in other countries may not want foreign companies to run their payment systems.
Nevertheless, he says the group has not identified any market so far, as uncertainties persist despite the various transitions to the endemic stage of the pandemic.
Digital banking license catalyst
Regarding the awarding of digital banking licenses, Ng is of the view that the development will benefit Revenue whether or not his consortium – along with Kenanga Investment Bank Bhd and the Sarawak government – ​​obtains a digital banking license. The consortium submitted its application to Bank Negara last August.
"If we are rewarded, we will fully support the consortium with our payment capabilities and be able to extend financial products deeper into our ecosystem.
"If not, we can still work with others to continue providing our payment services and infrastructure. Ultimately, five new digital banks will come to market and with our core strength, there will definitely be opportunities for us," he explains.
If Revenue is successful, it may need to embark on a private placement exercise to raise funds for such a venture, according to Ng. The group remained in a net cash position with RM89.5 million on hand at the end of December 2021.
"As a digital bank, we are talking about an initial paid-up capital of around RM100 million for the entire consortium. From the point of view of Income, the investment will be heavy. But from the bank's point of view, the entry level is low.
Bank Negara is expected to announce the successful bidders for the digital banking licenses soon. The Edge had reported that favorites included RHB Bank Bhd-Axiata Group Bhd's Boost; Grab Holdings Inc-Singtel; the consortium led by Sunway Bhd; and the Sea Group partnership between YTL Corp Bhd and Singapore.
Planned dividend policy
After transferring its Main Market listing status from the ACE Market in February, Ng believes it is time for the company to establish a dividend policy for fiscal 2023 to reward shareholders. The group debuted in Bursa Malaysia in July 2018.
"We are awaiting board approval for a dividend policy. When we listed on the ACE market, we needed cash to grow our business. Now the business is healthy and gaining momentum. money, then [we] should reward shareholders.
Ng says the group will move its headquarters to the four plots of Mukim Batu, Kuala Lumpur, which it recently purchased for RM44 million. The building will be ready in about two years because the plots are still occupied. "We have seven offices in the Klang Valley, which is difficult for me to manage. We have therefore decided to consolidate into a single building, which will also respond to the expansion of the company. »
For 1HFY2022, revenue net profit increased by 30.5% to RM8.02 million from RM6.15 million, driven by higher revenue from the electronic transaction processing segment.
Revenue shares have gained 15.5% since their recent low of RM1.29 a month ago. At its close of RM1.49 last Thursday, the company had a market capitalization of RM694.9 million.