NFL insider notes: rookie Najee Harris will carry the Steelers offense on his back if that's what is needed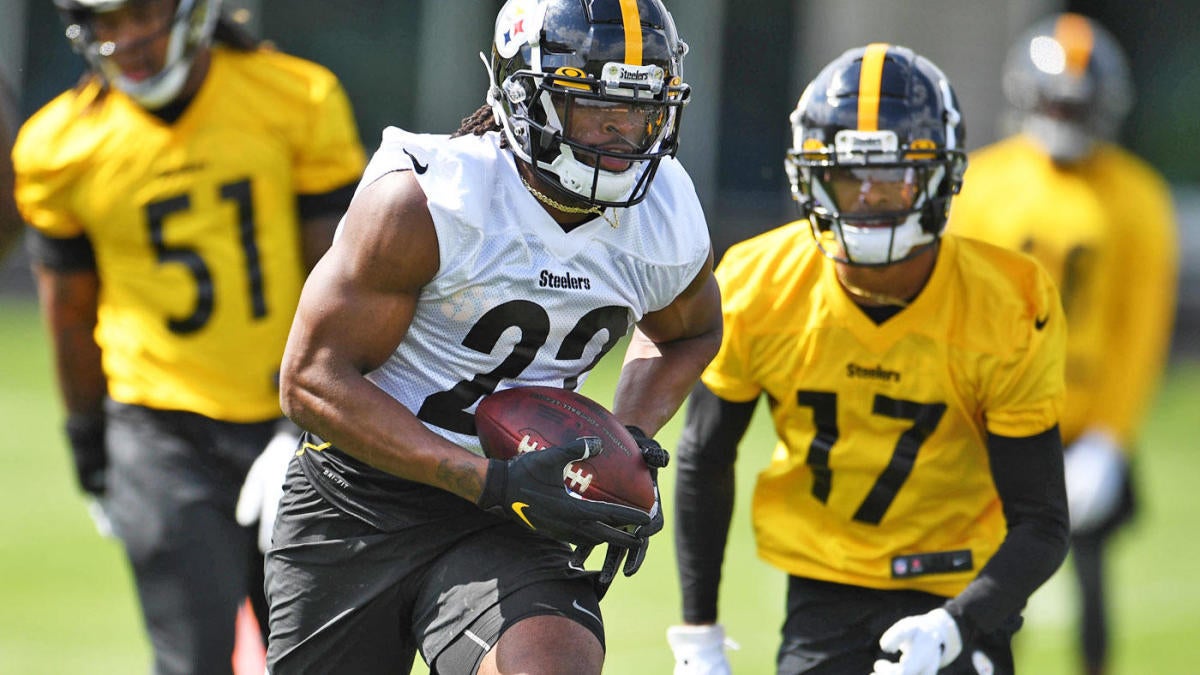 Sometimes all it takes is spending a few hours around a soccer team for certain individuals to stand out. One afternoon is enough to cement a strong impression. A recruit looks like a veteran. It's about as close as it gets.
Najee Harris fits that description. It's going to be a thing in the NFL in 2021, and it's going to be a thing from week 1. It won't always be perfect, and given the makeup of that offensive line, the Alabama star will often have to do more with fewer manners than he's rarely, if ever, experienced in this college football factory. But his mind and body are up to the challenge, and I predict Harris will become the face of a very transitional offense and a mainstay of the Pittsburgh community.
This kid is special in more than one way. His star power, on and off the pitch, is real.
"So far he's doing everything we hoped he could do," said general manager Kevin Colbert, not the type to throw profuse platitudes on rookies, especially after just a few padded practices. "He is very conscientious, a hard worker, a quick study.
"We had heard it all, but until you witness it you never know. But he has been extremely diligent in his efforts and his drive to improve himself. He is very talented and I see the desire to do it. We are delighted to see him play. "
On several occasions, Harris was trapped behind the line of scrimmage, inundated with defenders. The Steelers' defense is an elite and its offensive line has been a mishmash so far on a team that may be considering five new starters from a year ago, and one that is already facing plenty of bumps and bruises. at the start of the camp. Harris seems to appreciate the opportunity to shine even when the numbers are against him and there is no discernible hole and he has to invent something from scratch on the fly.
"Not all games will be blocked," he said, beaming an infectious smile all the time in what has become a bit of a mantra for him. Harris thinks it's his job to beat the first man he sees, regardless of the situation, and find a way to save the coin. It's his responsibility to "create" whenever the ball is in his hands … And despite all the talk about a reborn Ben Roethlisberger, Harris is going to see a lot of football.
"The line is what it is," said Harris. "My job is to do everything I can in each race to help my team."
He managed to escape the immense grip of defensive lineman Cam Heyward in a momentous weekend run, turning a 5-yard loss into a substantial enough gain on the sidelines. Burly Steelers defenders, reluctant to pitch bouquets to other top picks like rookie winger Pat Freiermuth (or even calling him by name "the little winger who could be something special" as he called him Heyward), spring from their new comeback after being the league's worst ground team a year ago.
"It was something I really loved about him, even at the college level," Heyward said of the ability to turn nothing into something. "No matter what the offensive line has given him he's able to fight for positive yards. Obviously we don't want that to happen but seeing this guy fall a lot forward for us is a positive sign for us. . "
The running backs of this division are being watched. Nick Chubb just got his extra time to secure him to the Browns, Joe Mixon is suspected to be unable to sustain a serious injury for a third year in a row, and the hype about JK Dobbins seeing a ton of balls and being presented in the game passage in year 2 is very real. Harris will end up being mentioned in the same breath as all of them.
Missing-in-action Jackson a big deal
The Ravens predict that Lamar Jackson will return for training this weekend after landing on the COVID shortlist just before camp opened last week. Frankly, it can't happen fast enough. Players, coaches and executives have spent months preparing to make changes to a late passing game, through patterns and emphasis points as well as deals (overhaul of the offensive line and groups of receptors). They were aimed at putting the theory into practice and starting to tweak and assess which matches where, but good luck sorting out what's been filmed so far without the former MVP and a host of basic attacking guys.
Having Trace McSorley and Tyler Huntley attempt to execute the first team attack day in and day out seems less appealing as the sample size increases. Doing it without last year's starting receivers (Miles Boykin and Hollywood Brown) doing anything and with 2021 first round Rashod Bateman doing next to nothing with muscle disease and left tackle Ronnie Stanley still on a long way back after major midseason surgery and with key free agent Kevin Zeitler's signing, who also suffers from a foot injury, is also suboptimal. Oh, and Jackson also has a new center after suffering some bad snaps a year ago, but they can't even have lunch together let alone train together so far.
Tuesday morning's session was a tough one to watch at times, with an aggressive defense seemingly pressuring at will with quarterbacks failing to make rudimentary passes even at a pace without acceleration in goal-to-go situations and with a crowd of reserve running backs sometimes functioning as receivers due to the shortage of wide available (Baltimore made a deep signing ahead of Wednesday's session). There was no shortage of fans complaining about what they were seeing and pining for Jackson's return.
Time lost is time wasted. Kudos to everyone on the Ravens' camp who remains positive and upbeat and puts the best possible spin on this situation – and Dobbins has stood out in all three sessions I've watched – but finding other superlatives is difficult in full team sessions on that side of the ball.
Add to that that Jackson set up some bizarre anti-vax propaganda and potentially harmful conspiracy theories on his (quickly deleted) social media this week – while still engaged in negotiations for a mega-contract – and make me skeptical as to the fact that a lot has been accomplished by Jackson's unit so far. A lot of it is on him.
Insider Notes
The Ravens aren't the only team hoping to strike a monster deal with a franchise player. Pittsburgh would like to extend TJ Watt and Minkah Fitzpatrick as both completed the three seasons required to do so… But I wouldn't hold my breath. I didn't feel like anything was close to either or that momentum was building with them. The Steelers have long stipulated that no negotiations take place during the season, so those deals either happen next month or don't happen until 2022 at the earliest. I would bet more. Yes, owner Art Rooney said, "We're just going to do our best and I think both parties want to do something." But there are constraints and cap issues, the timing is far from perfect, and $ 25 million a year is a lot of money. He will eventually retrieve his bag, but nothing is yet close, or comes closer.
The Bills have been at the forefront of the movement to find and develop better technology to help prevent and mitigate injuries, and it has never been more evident than it is today. All of their offensive and defensive linemen wore large padded shells over their usual helmets in training, which I can't help but wonder we'll see more in time. Yes, they looked a bit odd, but no player complained, they didn't seem bulky, and if they even prevent a concussion or a head or neck injury, it's worth it. The feedback has been favorable and no one should be worried about making a fashion statement in the camp, anyway. Anything that is sure that can provide better data on the cost of these impacts, or to help reduce this toll, is a step forward. Adopting this science is only smart.
COVID and Father Time appeared to catch up with Calais Campbell a year ago in one of the least productive seasons of his career. At 34, it's fair to wonder about rebound seasons, but for what it's worth, Campbell has always stood out in all three workouts I've seen. He's flashing everywhere, inside and out, and of course part of it is due to that makeshift OL, but Campbell's fire is blazing hot and he knows this might be his last shot to win something. big thing. "He says at this point he's not going to be there every day and every game," coach John Harbaugh told me. "He doesn't need that. The games he takes, however, he wants to be on the cutting edge and play with his hair on fire. That's what I see him doing." … The Bengals' offense is off to a very slow start by all, with attention already focused on their long offensive line. Can't wait to see it for myself this weekend. Anyone who expects Joe Burrow to be Superman in his first workouts after these procedures is a jerk. The mental aspect of this recovery is very real and even Tom Brady has looked human for at least half of his first season after his knee surgery. That will take time. … Chubb's deal with the Browns hasn't reset the runningback market in any way. Very well done by GM Andrew Berry for a front office that continues to stand out. … We haven't even been to two training camps with Joe Judge at the helm, but it still seems like something with the Giants. I can't help but wonder if, in the back of someone's mind, he wished he had hired the Ravens' defensive coordinator, Wink Martindale, and let Judge go the college route. Lots of red flags in a very short time.