Annaly Capital Stock: Inflation poses a serious risk (NYSE: NLY)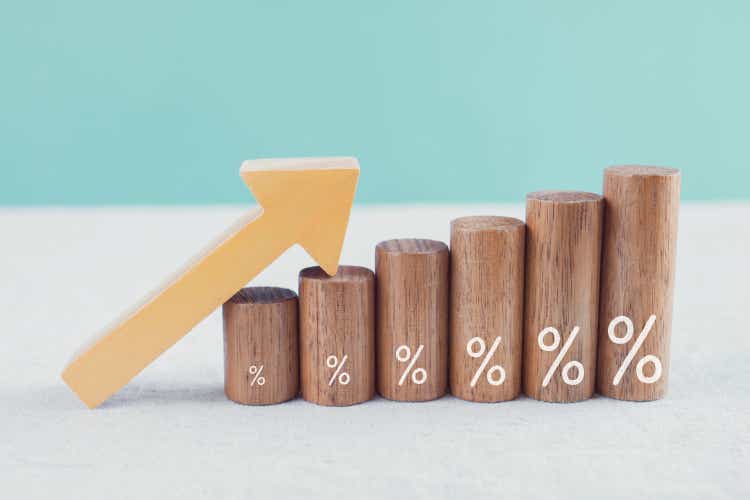 Threats of inflation and higher interest rates have caused the outlook for the mortgage real estate investment trust sector to deteriorate in recent months. Annaly Capital Management, Inc. (NLY), the largest mortgage REIT in the industry, saw its valuation multiple drop from a premium to a discount as investors anticipate higher margin pressures going forward. Annaly Capital risks seeing an even lower price to book multiple as the rate of consumer price increases accelerates.
Profitability challenges for the MREIT industry and Annaly Capital due to 40-year highs in inflation
The mortgage industry is in a bad state. During the Covid-19 pandemic, the industry benefited from historically low debt financing rates, thanks to very accommodative central bank policy. The central bank cut interest rates to zero, creating an interest rate environment very similar to that which resulted from the collapse of subprime mortgages in 2008. Mortgage REITs were also able to borrow large sums of debt. money at almost zero economic cost at the time, thanks to an unprecedented bailout of the financial sector.
Annaly Capital has benefited from very inflated net interest margins, inflated by low funding costs over the past two years. Over the past five quarters, Annaly Capital's average GAAP cost of interest-bearing liabilities has never exceeded 0.51%, but interest expense began to rise in the fourth quarter.
With interest rates expected to rise significantly this year, Annaly Capital's net interest margin will most likely correct and be much lower going forward than it was during the pandemic period. Reduced net interest margins imply lower returns on capital, and there is a significant risk that the gap between book value and share price will widen further.

Inflation is becoming a major concern for the mortgage industry, as well as for Annaly Capital. As inflation rises, the central bank is forced to take countermeasures to protect the wealth and income of consumers and investors. The problem in the mortgage market is that the central bank is slow to raise interest rates. The policy lag could lead to a very aggressive rate hike cycle this year, significantly reducing Annaly Capital's net interest margin.
Last week, February inflation data was released, providing further clues for this line of thinking. In February, inflation rose at the fastest pace in 40 years, reaching 7.9%, even surpassing January's blistering rate of 7.5%.
The problem here is that inflation is likely to pick up further, as the latest set of inflation data did not yet include the spike in energy prices caused by the Russian-Ukrainian standoff. With energy prices soaring in March, mortgage REIT investors should be prepared for even more pressure on the central bank to act to counter rising consumer prices.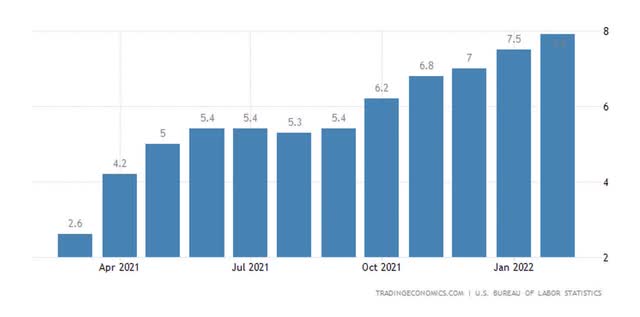 Expect a high book value discount
February's high inflation data forces the hand of the central bank, which may decide to raise interest rates significantly in 2022 and 2023. Higher interest rates will increase Annaly Capital's funding costs and therefore the discount to book value will likely increase. Annaly Capital's book value was $7.97 per share in the December quarter, down 5% quarter-on-quarter as industry pressures intensify and the market anticipates lower profitability at the future.
In anticipation of lower margins, Annaly Capital's share price fell, with the trust's valuation dropping 25% from the same period last year.

At the time of writing, Annaly Capital's price to book multiple was 0.89, implying that investors received an 11% discount on the recorded book value of the mortgage REIT. NLY has historically traded at both premiums and discounts to book value. That said, Annaly Capital's valuation discount could increase further in 2022 as the central bank enters a more aggressive rate hike cycle.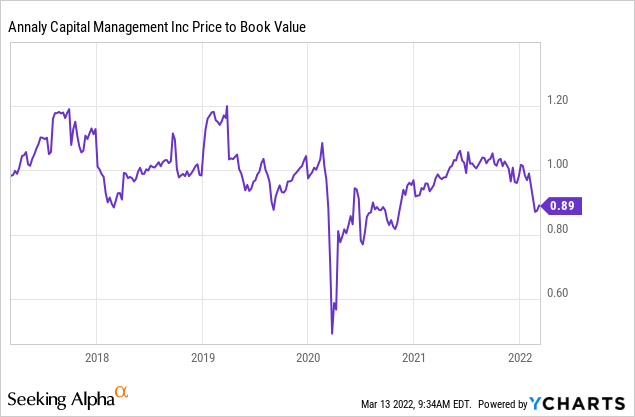 My conclusion
Annaly's share price continues to decline, and I see no reason why it shouldn't decline even further in the face of a more challenging macroeconomic situation unfolding in 2022.
The central bank will raise interest rates in response to soaring inflation. Higher interest rates will primarily hurt industries that rely on high levels of debt to generate interest income. Shares of Annaly Capital previously traded at book value discounts above 11%, and I expect the mortgage REIT to do the same this year.