Annaly Capital Stock: An ugly duckling to avoid at all costs (NYSE:NLY)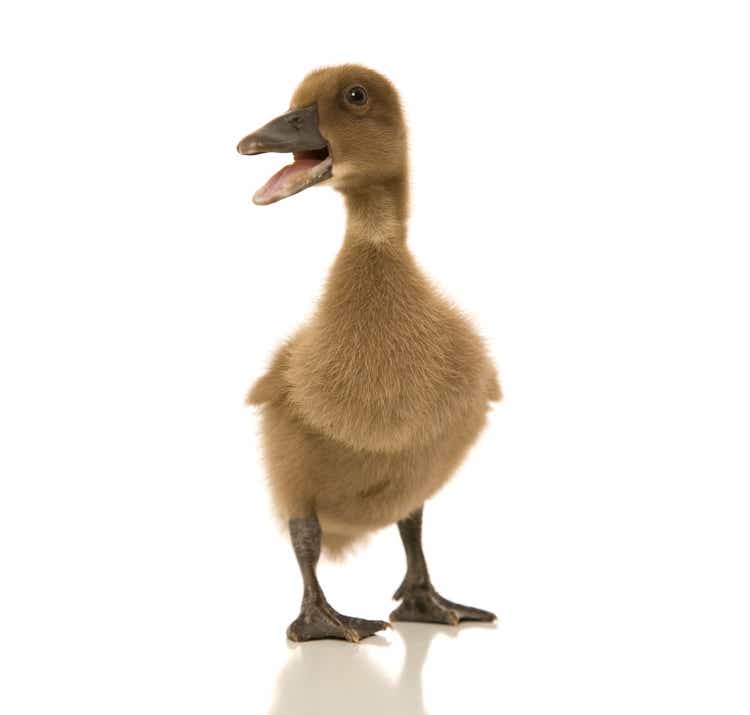 From the titles of my articles, at least, I last wrote about ugly ducklings in July 2018.
That doesn't seem entirely fair, of course. I really thought I mentioned the unloved Real Estate Investment Trusts (REITs) with major potential since then.
But since I don't have time to read all my articles from July 24, 2018… I'll have to work on that one.
Before I get to it though, I need to backtrack (or maybe fast-forward would be the best term) to another article – this one from March 16, 2022: "2 SWAN-a-Be REITs That Are Hardly Ugly Ducklings ".
This covered VICI properties (VICI) and NETSTREET (NTST), two companies that didn't sleep well at night – SWAN – stocks. Again.
But they show significant amounts of potential. And even as they are – despite their lack of a well-established track record – there's very little about them that isn't appealing.
I'm not writing about either today, however. I only mention this article because of how it ended:
"In a few days, I'll spotlight some of the 'ugly ducklings' of REIT-dom who may never see their day in SWAN-ville.

"Of course, there are always those who make the transition to everyone's surprise… thanks to disciplined leadership teams like Joey Agree, CEO of Accept real estate (CDA).

"As shown below, these stocks have returned 17% annually since 2009."
Here is the table in question.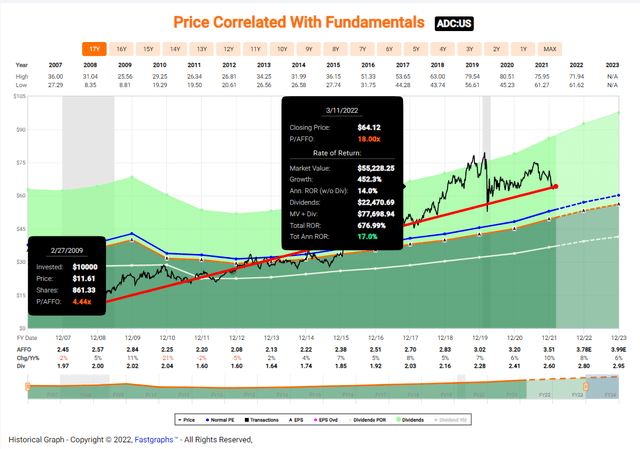 But more often than not, what you see is what you get, whether you like it or not.
Another example of an "ugly duckling" with a fairy tale ending
Now, on July 23, 2018, my article was much more complimentary than this one will be. Here's an excerpt from "Spirit Was Once an 'Ugly Duckling' and Could Soon Become a SWAN":
"As I reflect on the new Spirit (SRC), I can't help but think of the childhood story of the ugly duckling who turned into a beautiful swan. As the fairy tale tells, a simple little bird was born in a barnyard that suffered abuse from others around it until, much to its delight (and surprise to others ), he becomes a beautiful swan."
I explained that Spirit probably needed "a few quarters before" I felt comfortable giving it a SWAN upgrade. However, I was convinced that it already deserved a strong buy recommendation in iREIT over Alpha's New Money Wallet.
But not every unattractive bird has such a wonderful story ending in sight. Sometimes a naughty bird is really just a naughty bird. Other times, an ugly bird is destined to eventually become something beautiful.
However, this will take some time. In this case, it is in our interest to wait.
I'm not a fortune teller, so I can't tell you exactly what's in the future of the next FPI. But what I can read about it tells me it won't be a SWAN anytime soon.
So I recommend that you avoid it for now – and maybe for good.
How to make the difference
But first, I want to add a general word on how to distinguish a SWAN from a "SWAN-a-Be" from a bad egg.
Really, it's a matter of history. What kind of track record does the REIT you're talking about have?
Take the easy example of Federal Real Estate (FRT). It's a dividend king – a company that has increased its annual dividend every year for 50 years or more.
This coveted title implies excellent management, excellent investment and excellent financing.
Do not mistake yourself. You always want to look at the actual details of a SWAN before entering it, not just its dividend history. And you especially want to consider its valuation.
But when you see a dividend history that spans 50 years or even "only" 25… you are almost certainly looking at a beautiful bird.
As for the SWAN-a-Bes, they will still have made obvious efforts to achieve excellence. Take what I wrote about VICI the other day:
"Since the stock listing in 2017, VICI has grown at a record pace. On the one hand, adjusted earnings before interest, taxes, depreciation and amortization (EBITDA) have grown from $690 million to over $2.56 billion. dollars (pro forma including MGP).

"The evolution of VICI's business model has also been impressive. It continues to increase in size, diversity and the type of capital it can access.

"As such, we expect to get a credit upgrade soon…"
As it's only been listed since 2017, we have little to do at this stage – just like the rating agencies. But there is still clear potential here, with this REIT being far beyond a diamond in the rough.
As for bad eggs? Let's look at a particular example below.
Annaly: an ugly duckling from Manuel
Many of my regular readers know that I'm not a big fan of residential mortgage REITs. In fact, I've often warned investors to steer clear of them.
Here's why…
Like most investments, the more debt you use, the greater the potential for gain or loss. And when we buy stocks on margin, we take advantage of the returns on investment through debt.
Any asset – REITs or otherwise – carried at a high margin carries substantial risk. A drop in its value will lead to a much larger drop in the initial (principal) investment.
Similarly, those who use excessive leverage to increase returns almost never offer long-term value. The only exception is during extraordinary times when commercial real estate is acquired at abnormally low prices.
The REITs that generate the most consistency are distinguished by modest debt and conservative balance sheet fundamentals.
It is well known that mortgage REITs (mREITs) own debt, not property. Thus, the risks of investing in these stocks are considerably high compared to other dividend-paying stocks.
They take advantage of lower interest rates, which increases the value of the mortgages they hold. Essentially, it is the beneficial use of borrowed money that amplifies returns (leverage).
This is why mREIT spreads are wider and dividends are much higher than equity REITs. Frankly speaking, as I have often said, they have no place in a retirement portfolio.
A name that gets a lot of attention here on Seeking Alpha is Annaly Capital Management (NYSE: NLY), which now sports an almost toxic yield of 11.9%.
Does the term "miller's yield" come to mind?
I did not invent this phrase, for the record. But I know I use it a lot. For those who haven't heard it, it just means performance is too good to be true.
Annaly Capital – A Chronic Dividend Cutter
Here's something else you should know about Annaly: She currently pays a quarterly dividend of $0.22 to shareholders — a payment she's cut her dividend more than once in the past.
Just take a look at the table below. I've highlighted all the years it cut its dividend…which is a lot.
I would go so far as to call NLY a chronic dividend cutter!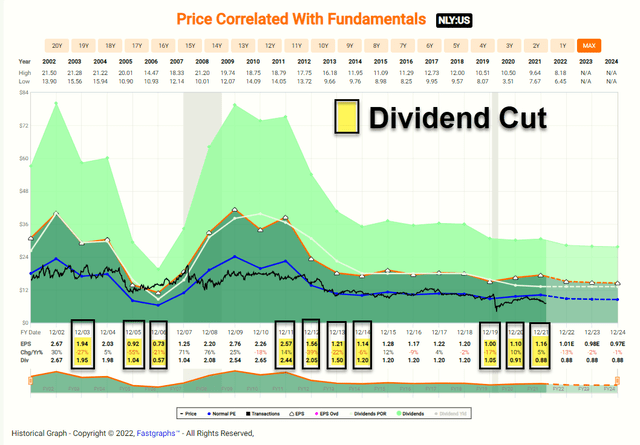 Add to that rising inflation and headwinds to net interest margins, and the dividend is getting riskier by the day. Shares have already fallen from $9.50 in June 2021 to $7.02 today, a drop of more than 25%.
Again, mortgage REITs are extremely sensitive to interest rate fluctuations and rarely do well in rising rate environments. This is because most of the mortgages already on their books are fixed rate assets. They therefore do not benefit from such changes.
In addition, they then have to pay higher interest rates to borrow money to finance their day-to-day operations. The result is shrinking profit margins, which in turn can easily impact the stock price, not to mention the dividend.
Now, in its defense, NLY's management team has made an effort to manage interest rate risk by deleveraging the balance sheet. As CEO David Finkelstein pointed out on the recent earnings call:
"We have substantial liquidity with $9.3 billion in unencumbered assets, up $500 million year-over-year."
Yet, based on the current environment, many challenges await NLY. So investors should be skeptical of what it can produce from here.
Certainly, analysts anticipate a slowdown reflected in their average 2022 EPS growth estimate of -13%.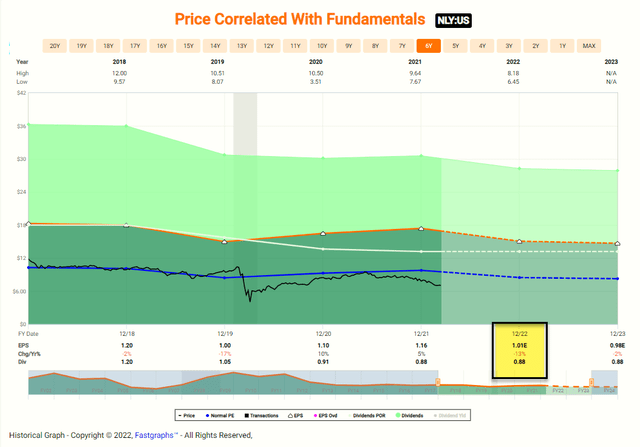 In conclusion…
I'm sure some investors have made money on Annaly. However, in general, it's a textbook "ugly duckling" choice. Just look at his returns: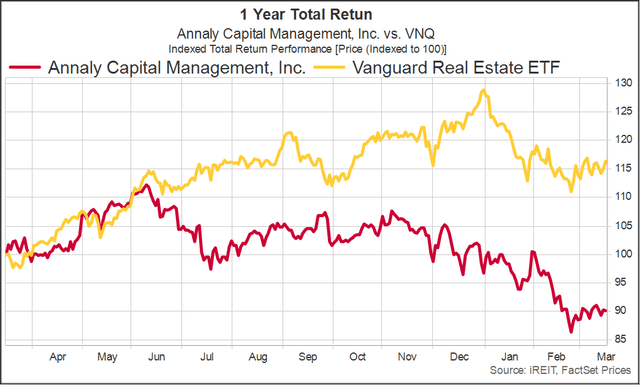 And…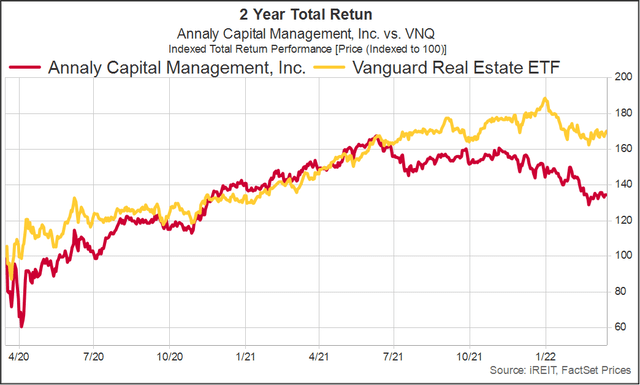 And…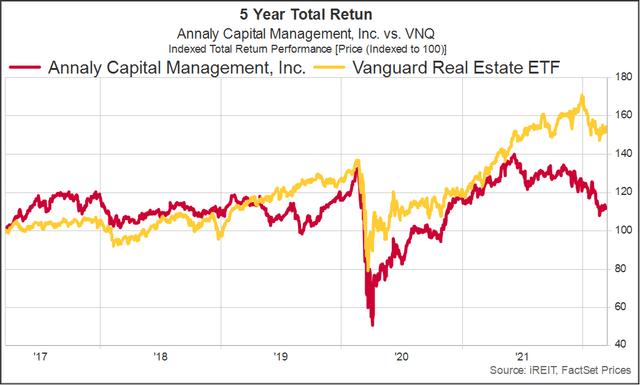 And…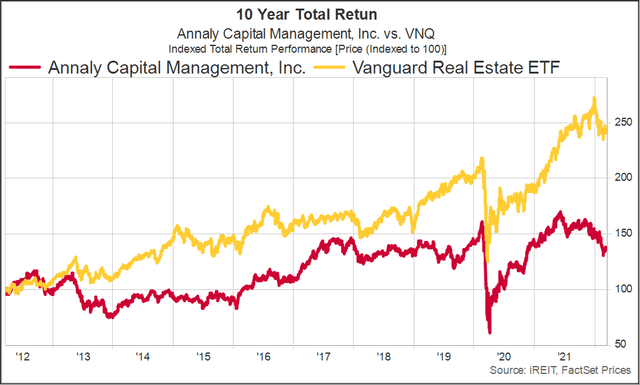 In reality, most residential mREITs are considered speculative. And as Frank Williams said in If you must speculate, learn the rules:
"Quick profits are just scum. They induce a fever in the blood and don't last. The worst thing that can happen to a new speculator is to make a lot of money quickly on their first trade."
So before you put your hard-earned money at risk, you should ask yourself:
Do I understand the business model?
Does the company have a history of consistent profit growth?
Does it have a good track record of dividend growth?
Is the management team aligned with the shareholders?
Am I an investor or a speculator?
Personally, whenever I see a dividend cut – even during a pandemic – I wonder if management is allocating capital wisely. A mulligan is not necessarily the end of the world.
However, when I see a chronic cutter, "I don't go away… I run!